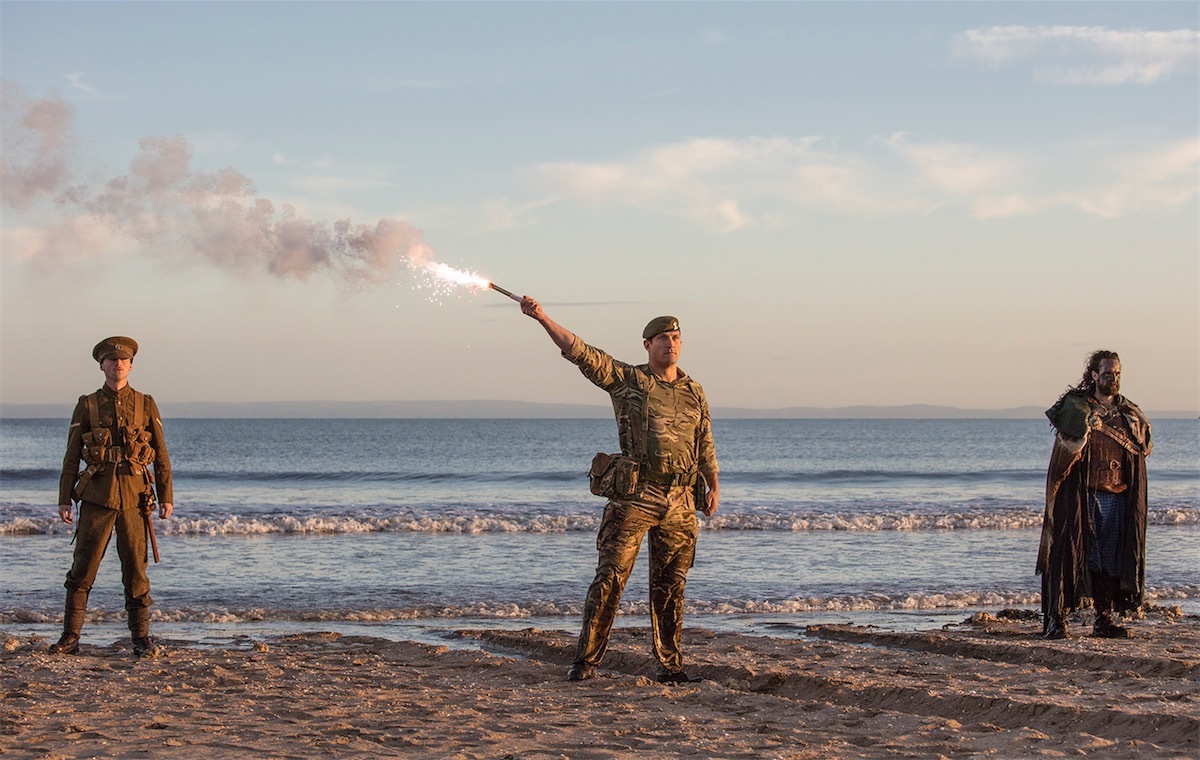 CREATIVE TEAM \ TIM CREADIGOL
Artistic Director \ Cyfarwyddwr Artistig Marc Rees
Creative Producer \ Cynhyrchydd Creadigol Isabel Griffin
Associate Director \ Cyfarwyddwr Cyswllt Jac Ifan Moore
Sound Designer \ Cynllunydd Sain Mike Beer
Lighting Designer \ Dylunydd Goleuo Joseff Fletcher
Designer \ Dylunydd Buddug James Jones
Design Assistant \ Cynorthwy-ydd Dylunio Luned Gwawr Evans
Set Build \ Adeiladwyr y Set Eifion Porter
Scenic Artist \ Artist Golygfaol Aleks Carlyon
Tank Design \ Dylunio Tanc George Haylock
Sergeant Sculpture \ Cerflunwaith Myles Mansfield (based on a painting by John Singer Sargent)
Costume Designer \ Supervisor \ Goruchwyliwr Gwisgoedd Rhiannon Matthews
Costume Assistant \ Cynorthwydd Gwisgoedd Helen Ognjenovic-Morgan
Costume Maker \ Gwneuthurwr Gwisgoedd Blaze Cummings
Assistant Dresser \ Cynorthwydd Gwisgoedd Oskar Howells
Filmmaker \ Gwneuthurwr Ffilm Simon Clode
Choreographer\ Coreograffydd Cai Tomos
Dance Animateur \ Animateur Dawns Julie Hobday
Community Associate \ Cyswllt Cymunedol Ami Marsden
Now For More Co-ordinator \ Cydgysylltyd Nawr Am Fwy Jonathan Powell
Composer \ Cyfansoddwr \ Organist Owen Roberts Realised from an original collaboration with Jóhann Jóhannsson
Composer's Assistant \ Cynorthwydd Cyfansoddwr \ Organist Paul Frick
Additional Music + Mixing Matt Kirk
Libretto Owen Sheers
Choir \ Côr Polyphony
Conductors \ Arweinydd Stephen Layton, Michael Waldron
Soprano Rachel Ambrose Evans, Jennifer Cearns, Bonnie de la Hunty, Eloise Irving, Bethany Partridge, Louise Prickett, Heloise Werner
Alto Amy Blythe, Jessica Dandy, Ruth Kiang, Harriet Kirk, Laura Lamph, Elisabeth Paul
Tenor Declan Costello, Peter Di Toro, Benjamin Durrant, Jon English, Matthew Howard, William Johnston Davies
Bass Edmund Danon, Christopher Dollins, Simon Gallear, David Le Prevost, Samuel Pantcheff, Adrian Peacock, Richard Savage
Choir Manager \ Rheolwr Côr Louise Jameson
CAST
Peace Protestor \ Protestwr Heddwch Eddie Ladd
Contemporary Soldier / Groom \ Milwr Cyfoes / Priodfab David Williams
WW1 Soldier \ Milwr RB1 Mathew Prichard
Celtic Warrior \ Rhyfelwr Celtig Josef Perou
Bride \ Priodferch Alexandria Riley
Vertical Dancer \ Dawnsiwr Fertigol Kate Lawrence
VOLUNTEER COMMUNITY CAST \ CAST CYMUNEDOL GWIRFODDOL
CYD ADDRODD Sali Wyn Islwyn, Rhian Jones, Michelle Thomas, Janet Thomas, Enid Owen, Helen Evans, Helen Gibbon, Mari Pwell, Catrin Saran James, Betsan Rosser, Rhiannon Barrar, Helen Flynn,Sian Jones, Dili Pitt, Gwen Beynon, Allison Thomas ,Mary Provis, Ann Barnes, Mari Griffiths, Helen Rees, Delyth Jenkins, Krys Williams, Kathryn Williams, Nerine Griffiths, Catrin Jones, Rhian Jones, Stacey Brown, Louise Gibbard, Helen Murphy, Jennifer Alderton, Amber Esther, Ingrid Bousquet, Jenny Alderton, Inari Soinila, Mary Hayman, Catrin Jones, Menna Jones, Rose Davies, Viv Rhule, Shelly Saunders, Karen Tunnah, Helen Horton, Kirsten Phillips, Anne Barnes, Eef Bonnet, Saba Humayun, Grace Michell, Lowri Thomas, Catrin Lyall, Sian Howells, Non Evans, Catrin Davies, Eleri Griffiths, Meinir Jones, Nerys Rhys, Heledd Clarke, Luned Mair, Nia Williams, Eirian Leonard, Jenny Scourfield, Nia Besley, Alex Hopkin, Ann Biston, Lowri Mair, Elin Leyshon, Brianna Moore, Louisa Carne, Sarah Picket, Harriet Horgan, Amy Wyett, Emily Harker, Tezni Williams, Sophie Jones, Celyn Bowley, Mari Youngman, Catherine Davies-Woodrow, Nest Davies, Gwenno Ffrancon,Lauren Evans,Sharon Rees, Linda Wyn Joseph, Mari Edwards,Christine Lacey, Sioned Williams, Eugina Hopkin, Tracey Eccott, Delma James, Mair Roberts, Jane Davies, Laurel Rees, Delyth Spurway, Liz Davies, Carys Mol, Meirwen Watts, Ann Sutton, Mair Lewis, Clare Grist, Helen Lucitt, Siân Williams, Chris Lacey, Ann Williams, Cath Price, Jane Carver, Carys Moore, Mirian Owen, Mea Verallo, Mali Loader, Elin Rolles, Anneira Moore, Efa Parkhouse, Llinos Haf Williams, Angharad Davies, Elena Ruddy, Nerys Rhys, Heledd Griffiths, Anest Williams, Alison Pritchard, Elfair Jones, Anneira Moore, Lowri Williams, Nansi Eccott, Cath Price
SOLDIERS \ MILWYR George Haylock, George Arhontis, Seth Morris, Ianto Griffin, Luke Jones, Arnold Matsena, Matthew Harries, Rhys Goodwin, Michael Lindoewood, Ben Tiley, Luke Rance, Oliver Davies, Ryan Gormley, Joe Baker, Louis Heinrich
WEDDING PARTY \ PARTI PRIODAS Alison Porter, Anna Collins, Beverley Roberts, Carolyn Dyche, Cerys Young, CJ, Daniel Kilbride, David Hall, Deborah Rosser, Dreena Morgan-Harvey, Ella Waters, Emyr Jones, Gwen Beynon, Helen Horton, Hywel Edwards, Jen Dineen, Jenny Alderton, Kirsten Phillips, Laurence Evans, Lisa Shneider, Matthew Collier, Melanie Shepphard, Nancy Sheterline, Rosalba Gambatesa, Suad Samawi
INSTALLATIONS \ GOSODIADAU
LORD MAYOR'S RECEPTION ROOM \ YSTAFELL DDERBYNFA'R ARGLWYDD FAER Kachen Namgail, Kachen Jampa, Kachen Jekmath, Tsoktsokpa Nawang Lobzang, Tsoktsokpa Lobzang Thokmed, Kachen Tenzin Dasal, Kusho Gyaltsen Lachenpa, Kusho Sonam Dhundup
COMMITTEE ROOM \ YSTAFELL BWYLLGOR WW1 Soldier \ Milwr RB1 Mathew Prichard
COUNCIL CHAMBER \ SIAMBR Y CYNGOR Peace Protester \ Protestwr Heddwch Eddie Ladd Peace and Goodwill Messages from the Youth of Wales by Urdd Gobeithio Cymru \ Negeseuon Heddwch ac Ewyllys Da Ieuenctid Cymru gan Urdd Gobaith Cymru Anneira Moore, Carys Moore, Dewi Williams, Mari Youngman, Ffion Pirotte, Stefan Leonard, Seren-Haf Woodman Shaughnessy, Rhiannon Peacock, Oliver Davies, Ava Howard, Rachel Sims Sam Jones, Caoimhe Murphy, Simon Clode
CORRIDOR \ CORIDOR Man Child
Filmmaker \ Gwneuthurwr Ffilm George Morris
Printmaker\ Gwneuthurwr Print Rose Davies
Life Model \ Model David Williams
ROBING ROOM \ YSTAFELL GWISGO
Voice \ Llais Owen Sheers
Celtic Warrior \ Rhyfelwr Cetig Josef Perou
GRAFT
Soup \ Cawl Owen Griffiths
PRODUCTION TEAM \ TÎM CYNHYRCHU
Production Manager \ Rheolwr Cynhyrchu Jacob Gough
Assistant Production Manager \ Rheolwr Cynhyrchu Cynorthwyol Nia Thomson
Company Stage Manager \ Rheolwr Llwyfan y Cwmni Alison Palmer
Deputy Stage Manager \ Dirprwy Reolwr Llwyfan Gemma Thomas
Assistant Stage Manager \ Rheolwr Llwyfan Cynorthwyol Dan Richards Anna Jenkins, Llinos Griffiths
Site Manager \ Rheolwr y Safle Dyfan Rhys
Transport \ Trafnidiaeth Liam James
Crew Chief \ Pennaeth Y Criw Rhys Pugh Evans
Crew \ Criw Gareth Brierly, Scott Travers, Eirian Evans
Production Electrician \ Trydanwr y Cynhyrchiad Josie Allen, Gareth Hughes, Charlie Knight
Production Sound \ Sain y Cynhyrchiad Lewis Jones, Ian Barnard, Tomi Hargreaves, Jon Cox
Sound Equipment provided by Stage Sound Services

Aerialist Rigger / Rigwr awyrwrydd Simon Edwards
Boat Transport / Cludiant Cwch David Tonge
COMMUNICATIONS \ CYFARTHREBU
Marketing & Communications Manager \ Rheolwr Marchnata a Chyfarthrebu Sarah Vining
PR The Corner Shop PR: Ben Chamberlain, Philippa Redfern, Nia Jones
Translation \ Cyfieuthiad Rhys Iorwerth
Branding and Design \ Dylunio Oliver Norcott
Web Development \ Datblygiad Gwe David Shepherd, Echidna
Box Office / Front of House \ Swyddfa Ddocynnau / Blaen y Tŷ Swansea Grand Theatre \ Theatr y Grand Abertawe, Taliesin Arts Centre \ Canolfan y Celfyddydau Taliesin Stewards \ Stiwardiaid Swansea Council \ Cyngor Abertawe, Taliesin Arts Centre \ Canolfan y Celfyddydau Taliesin, Rubicon Security
14-18 NOW
Jenny Waldman, Nigel Hinds, Claire Eva, Sud Basu, Pak Ling Wan, The Cogency, Bolton & Quinn
TALIESIN \ SWANSEA UNIVERSITY
Executive Producer \ Cynhyrchydd Gweithredol Sybil Crouch
Production management \ Rheolwr Cynhyrchydd Erich Talbot
Marketing \ Marchnata Nia Mills, Faustine Verger
Marketing & Photography \ Marchnata a Ffotograffiaeth Hywel Harris
Finance & Administration \ Gweinyddu & Cyllid Nancy Brown
Front of House \ Blaen y Tŷ Alayne Jenkins, Mark Heycock, Andrew Knight, Debra Jones–Gammon, Deborah Drewson, Faustine Verger
SWANSEA COUNCIL \ CYNGOR ABERTAWE
Cultural Services \ Gwasanaethau Diwylliannol
Strategic Estates & Facilities Corporate Building & Property Services \ Ystadau a Chyfleusterau Strategol Gwasanaethau Adeiladau ac Eiddo orfforaethol
NOW THE HERO CHAMPIONS /
PENCAMPWYR NAWR YR ARWR
Jonathan Powell, Jane Simpson, Rhian Jones, Anna Redfern
THANKS TO / DIOLCH I
Thalia Campbell \ UWTSD \ Swansea Museum \ Amgueddfa Abertawe, Urdd Gobaith Cymru \ Swansea Little Theatre \ Theatr Fach Abertawe, West Glamorgan Youth Theatre Company \ Cwmni Theatr Ieuenctid Gorllewin Morganwg, County Youth Dance Company \ Cwmni Dawns Ieuenctid Y Sir, National Library Wales \ Llyfrgell Cenedlaethol Cymru, Victoria Avenue Residents \ Trigolion Rhodfa Fictoria, Tashi Lhunpo Monastery Trust \ Ymddiriedolaeth Fynachlog Tashi Lhunpo, Gower Coast Adventures, Penally Range, Thalia Campbell, London School of Economics and Political Science (LSE), Tŷ'r Gwrhyd, Ty Tawe, Menter Iaith Abertawe, Ysgol Gyfun Ystalyfera, Ysgol Gyfun Gymraeg Bryn Tawe, Twrw Tawe Morriston, Bishop Gore School, Oxfam Wastesaver, ABMU Arts in Health Team, Seaview Primary School \ Ysgol Gynradd Seaview, Swan Gardens, Cinema & Co, Swansea RFC \ Clwb Rugby Abertawe, Bibby's Beans, Hayes & Beale, Cae Tân CSA, Mr Flag - Charles Ashburner, Mal Pope, Lyndon Jones, Enora le Pocreau, David Brangwyn, Ben Brangwyn, Manon Eames, Jonathan Pugh, Jasper Rees, Major Tim McCatchean, Dafydd Williams, Caroline Finn, John and Anne Morgan \ Govinda's Café \ Swansea Sugarcraft \ Richard Newton \ National Theatre Wales \ Lee Mill Fabrics \ d Murphy \ Matt Collier
NOW FOR MORE \ NAWR AM FWY
VENUES \ LLEOLIADAU
Taliesin Arts Centre \ Canolfan y Celfyddydau Taliesin, Swansea Civic Centre \ Canolfan Ddinesig Abertawe, Swansea Print Workshop \ Gweithdy Argraffu Abertawe, Swansea Grand Theatre\ Theatr y Grand Abertawe, National Waterfront Museum \ Amgueddfa Genedlaethol y Glannau, Mission Gallery \ Oriel Mission, Swansea Museum\ Amgueddfa Abertawe, Dylan Thomas Centre \ Canolfan Dylan Thomas, Oxfam Shop, Castle St.\ Siop Oxfam, Castell, Cinema & Co., Elysium Gallery \ Oriel Elysium, Swansea College of Art \ Coleg Celf Abertawe, Creative Bubble\Bybl Creadigol, EXIST Skate Park \ Parc Sglefrio EXIST, Galerie Simpson, Volcano Theatre \ Theatr Volcano, Glynn Vivian Art Gallery \ Oriel Glynn Vivian, Creature Sound, National Botanic Garden of Wales\ Gardd Fotaneg Genedlaethol Cymru, Morriston Hospital \ Ysbyty Trefoys
ARTISTS \ ARTISTIAID
Yinka Shonibare MBE (RA), Fiona Banner, Lee Karen Stow, Lauren Heckler, Gundija Zandersona, Matthew Gough, Ben Spruce, Lily Ayre, Rebekah Morgan, Sara Walsh, Callum Smith, Amy Goldring, Tom Morris, Ann Jordan, Philip Cheater, Sophie Kumar-Taylor, Kathryn Anne-Trussler, Mark Heycock, Marega Palser, Gareth Clark, Jonathan Powell, Kelly Payne, Daniel Staveley, Nazma Botanica, Will Thomas, Phil Broadhurst, Mark Folds, Christine Buxton Jacob Humphreys, Thomas Leonard, Emily Mugford, James Scannell, Abbigail Sutton, Georgia Theodoulou, Anna Tutton, Jackie Ford, Rose Davies, Hannah Lawson, John Abell, Andrew Baldwin, Kaz Chambers, Allen Chambers, Alfie Scheinman, Phillipa Brown, Simon Parsons, Ali Hancock, Jonathan Green, Teresa Chambers, Gwilym Games, Jackie Cooze, Susie Wild, Julia Hopkins, Liam Dunne, David Pitt, Stacey Davies, Trish La, Rhys Owain Williams, Emily Vanderploeg, Kate Leonard, Kieran Thomson, Jessica Hoad, Scott Mackenzie, Euros Rowlands, Graham Parker, Carys Evans, Kate Bell, Tim Kelly, Hazel Cardew, Paul Munn, Kelly Payne, Lucy Donald, Louisa Johnson, Lee Williams, Myles Mansfield, Daniel Trivedy, Richard Williams, Mark Stephenson, Ally Jay Phillips, Helen Finney, Rhiannon Morgan, Cerys-Thomas-Ford, Gethin Matthews,Dafydd Williams, Sarah Williams, Wales For Peace, Caitlin Littlejohns, Tomos Sparnon, Simon Periton, Charlotte Ball, Bruce Risdon, Jazz & Daisy.
---
Now The Hero \ Nawr Yr Arwr is commissioned by 14-18 NOW, the UK's arts programme for the First World War centenary, with support from the National Lottery through the Heritage Lottery Fund and from the Department for Culture Media and Sport. It has been produced by Taliesin Arts Centre \ Swansea University in partnership with Swansea Council and Swansea International Festival and with the generous support of Arts Council of Wales, Welsh Government, the City & County of Swansea and the Colwinston Charitable Trust.
Mae Nawr yr Arwr wedi'i gomisiynu gan 14-18 NOW, sef rhaglen gelfyddydol y DeyrnasUnedig i goffau canmlwyddiant y Rhyfel Mawr. Cafwyd cymorth y Loteri Genedlaethol drwy Gronfa Dreftadaeth y Loteri a chan yr Adran dros Faterion Digidol, Diwylliant, y Cyfryngau a Chwaraeon. Canolfan Gelfyddydol Taliesin a Phrifysgol Abertawe sy'n cynhyrchu'r sioe, a hynny gyda chymorth hael Cyngor Abertawe, Gŵyl Ryngwladol Abertawe, Cyngor Celfyddydau Cymru, Llywodraeth Cymru ac Ymddiriedolaeth Elusennol Colwinston.