About
Nawr Yr Arwr \ Now The Hero takes as its starting point the sixteen large paintings that comprise the British Empire Panels by Frank Brangwyn.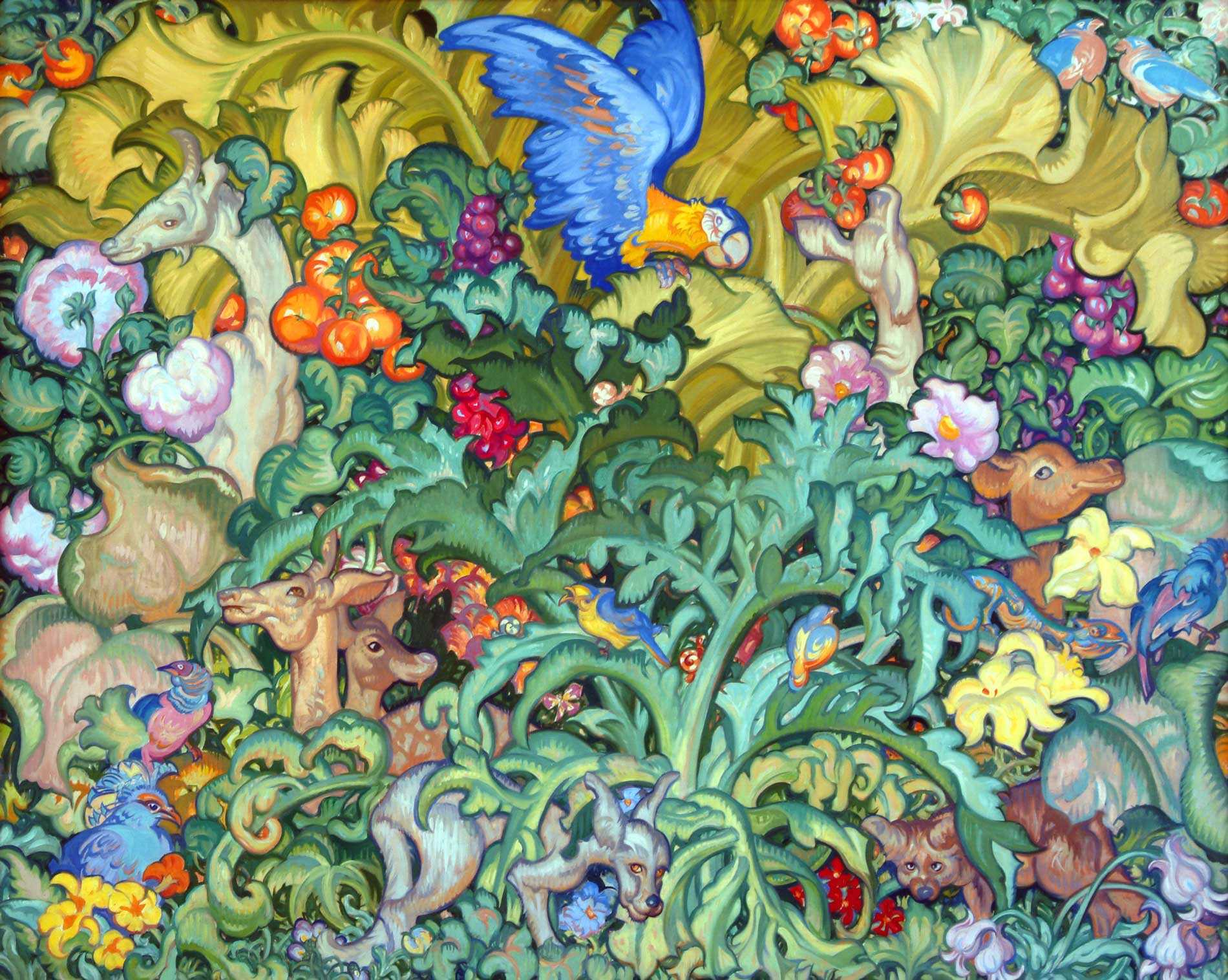 In 1924, the House of Lords decided to commission commemorative art works to honour peers and their family members killed in WW1. Although Brangwyn was not an official War Artist, he had produced over 80 poster designs for War Bond Stamps and charities and completed several war memorial works. The Lords commissioned Brangwyn to produce two large paintings: the works were direct representations of armed conflict and were rejected by the Lords (and subsequently by Brangwyn himself) as too brutal and disturbing for display. In 1931 Brangwyn donated one of the paintings, 'A tank in action' to the National Museum of Wales, where it hangs in the main hall.
Brangwyn then developed an entirely new scheme. His intention was to avoid direct treatment of war and conflict and the theme of the panels became the produce and peoples of the Empire, which had supported Britain in WW1. Brangwyn said of his work, '(Those) whom the panels would commemorate had died to save Britain and the Empire, and so it seems natural to portray the people, the flowers, the fruits and the fauna of the far-flung territories of British dominion'.
When they saw the panels, the Lords Art Commission unanimously refused to accept them, criticising the themes and content. Lord Crawford was the most outspoken in his comments and is reported as saying:
'Just imagine, five feet long bananas, with grinning black monkeys looking over them, in a room like this, with its historic association. These new pictures might do very well for a nightclub; they are certainly out of place here.'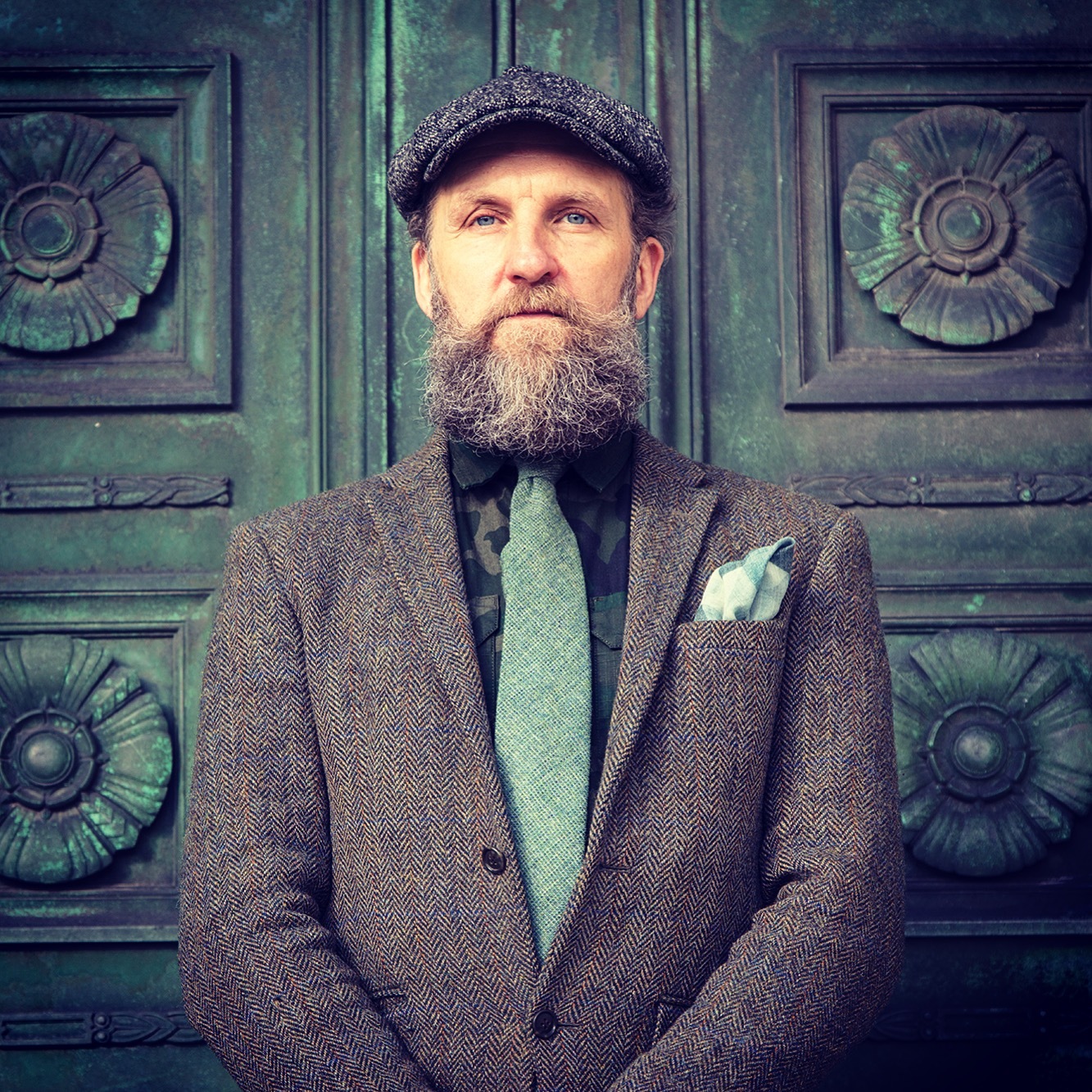 Marc Rees - Image: Hywel Harris
Brangwyn's idyllic, fantastical landscape conceals a historical tragedy and the panels are a WWI memorial of great significance. It is this notion that inspired Marc Rees to create an ambitious, large scale multimedia performance that links the First World War with historical and contemporary conflicts. At its heart is a Requiem with a libretto by Welsh BAFTA winning writer Owen Sheers sung by Polyphony, Stephen Layton's world famous choir. The music is composed by Owen Morgan Roberts, realised from an original collaboration between Roberts and the late, Oscar nominated Jóhann Jóhannsson (The Theory of Everything, Sicario and Arrival).
The performance will move the audience through scenes, meditations and reflections of war via a military storming, a raucous wedding Party, a protest dance and an ancient wake. It culminates with an outdoor Harvest Suppercurated by artist Owen Griffiths framed around the symbolism of Brangwyn's work. This will include the indigenous vegetables and herbs depicted in the panels, grown locally and served as a soup, thus offering an opportunity for the audience to ingest the panels and to contemplate the experience that the paintings have provoked.
'For every man who goes to war, he sets in motion a sequence of far-reaching traumas - the people he leaves behind, the people he fights with and against, the land with its flora and fauna, and probably most of all himself. These traumas are multi-generational and one of the biggest realms of blindness and denial in our society. Our lack of healing is exploited mercilessly by many media channels that hope to keep us scared and with our sympathetic nervous systems in constant agitation - making us make lousy decisions and willing to relinquish our agency, reducing compassion and collaboration at a societal level, encouraging us to lurch into victim mode... the list is almost endless. And I believe artists can do a magnificent job to hold a mirror up to this. Perhaps that's what the Brangwyn panels are - this is what a "healed" world looks like'.
Ben Brangwyn, co-founder of the Transition Network and relative of Frank Brangwyn
About 14-18 NOW
Nawr Yr Arwr/Now The Hero is commissioned by 14-18 NOW, the UK's arts programme for the First World War centenary, with support from the National Lottery through the Heritage Lottery Fund and from the Department for Digital, Culture, Media and Sport. The show is being produced by Taliesin Arts Centre and Swansea University with the generous support of Swansea Council, Swansea International Festival, Arts Council of Wales, Welsh Government and the Colwinston Charitable Trust. The project is also funded through Welsh Government's Tourism Product Innovation Fund, which aims to encourage new innovative product ideas working in partnership which will have a greater impact and attract more visitors to Wales.
14-18 NOW is a programme of extraordinary arts experiences connecting people with the First World War, as part of the UK's official centenary commemorations. It commissions new work by leading contemporary artists from all art forms. The commemorative period is marked by three key seasons – Anniversary of the Declaration of War in 2014, the anniversary of the Battle of Jutland and the Battle of the Somme in 2016, and the centenary of Armistice Day in 2018. 14-18 NOW is responsible for the UK tour of the iconic poppy sculptures by artist Paul Cummins and designer Tom Piper, and 'We're here because we're here' by Jeremy Deller in collaboration with Rufus Norris.
14-18 NOW has commissioned over 140 artworks to date that have been seen by more than 30 million people.